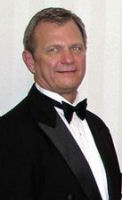 Dennis "Kramit" Kramer #61560
2005 - 2006
Jefferson City
Executive Officers: Dave DeLaney #41203 Administrative VP, Randy Johnson #56636 Programming VP, Dave Schuster #37388 Treasurer, Rudy Lefholz #50985 Secretary.
U.S. JCI Senate Outstanding State President 2005-2006

U.S. JCI Senate Thomas E. Humphrey Memorial Award as the Most Outstanding State President 2005-2006
The goals for the start of the journey through the "Winds Of Change" year were summed up in these words - FUN - activation - FUN -involvement - FUN - excitement - FUN - communication - and finally - MORE FUN!!! Sounds like a lot of incoming presidents goals? I am sure that it does. With the rich history and the solid foundation of the MO JCI Senate, all I needed to inject in the formula was a tremendous amount of FUN AND FUN WE HAD!!!
The "Winds Of Change" brought the excitement team (I should not have left part of my meeting in their hands), update of the website, development of the RETURN THE FAVOR submission page, a new look for the newsletter, utilization of the MO JCI Senate yahoo group for information, communication and alerts, the hidden questions, door prizes at meetings and the list goes on. It was all about making it as easy as possible to get YOU to be a part of an exciting time in the MO JCI Senate. And FUN we had! The camaraderie, new friendships, parties, trainings, RTF involvement, attendance at meetings, and the socials were all a HUGE factor in our success. The momentum was phenomenal!
YOUR involvement touched many lives. Manpower for XMAS Parades and Mud Runs. Facilitating Jaycee chapter planning sessions. Mentoring Jaycees. Reverse Raffle participation. Judges for CPG's, 1st Timers, Speak Up and Write Up. LOTS trainers for 100 Jaycee elected officers. Crazy Bowl tournament that was absolute craziness! Grow by 1 program with over 42 referrals for the MO Jaycees from the MO JCI Senate - AWESOME! 2 Super Bowl parties in St Peters and Jefferson City with funds going to Wonderland Camp and Access Day. Travel to Boston, MA and Daytona Beach, FL for USJCI BOD meetings. Great Bend, KS for the Region VI Meeting (what a HULA contest!). RTF had 118 participants logging in over 4000 hours (only the hours that were turned in) giving back to the Jaycees. Preparation for the 2006 USJCI Senate National Meeting in St. Charles, MO. There were so much more that YOU were involved in! YOU are FANTASTIC!!!
Our year was about making a difference in the MO Jaycees and the MO JCI Senate. We attained that mission. We were also recognized for doing what we do best - HAVE FUN! OUTSTANDING STATE NEWSLETTER - YVONNE KLINE #62416, OUTSTANDING RTF PROGRAM MANAGER - TIM VINCENT #54020, OUTSTANDING WEBSITE - DEBBIE VELTEN #63040, OUTSTANDING STATE PRESIDENT - DENNIS "KRAMIT" KRAMER #61560, THOMAS E HUMPHREY MEMORIAL AWARD - YOU, THE MO JCI SENATE! YOU are the BEST Senate Organization in the Nation!
The year of the "Winds Of Change" journey chapter has come to a close. It has been PHENOMENAL! Who knows when the next chapter will begin!!!